Situation:
Boulder Software Operations raised floor in building 006 had a 2 inch chilled water line break under the floor. An estimated 4k gallons of water flooded under the Software Operations raised floor.
Response:
The site had a RTC Restoration inspecting and measuring the humidity and air quality. RTC Restoration does not mess around. We probably had 75+ fans and dehumidifiers running to dry the floor below and pull the water out of the air. Amazingly we did not loose any power or have any equipment or system outages and I can confirm we were 100% operational and continued to ship Software Orders!
Testimonial:
"I just wanted to share some positive feedback we received regarding your company's incredibly competent disaster response. I have been in facility management for over 34 years and this is the most timely and well organized response I have witnessed thus far. Thank you!"
-FM Sr Engineering Ops Manager at Ibm

Testimonial:
"RTC has worked on campus for a number of years on various emergencies clean up projects and renovations to repair the resulting damage. We have found them to be very responsive each time an event has required the need for services in the cleanup and restoration area. They arrive with equipment and manpower to do the job.
Weather it has been a small drying event need inside one of our buildings to a large cleanup, drying and restoration project this company has done a great job. RTC along with their group of sub contractors manage a clean and safe job site. Quality of work has always been above standard. Work is completed in a timely manner.
Supervision is always done in a professional manner. They have worked with our building occupants with informational updates daily. Working in an occupied space can usually be a challenging task but they have always preformed in a manner they could be proud of and one that the we appreciate."
-Assistant Director Facilities Management Remodel and Construction Services

Testimonial:
"We have recently called on RTC to help us with two major projects and, as always, we have been beyond impressed with their attention to detail while providing impeccable service to us without missing a beat. While in the middle of mitigating a unit that we have offline due to major fire damage, Josh, Lindsay and Cole really went all out for us when it came to them helping us knock out a paint project with a deadline that seamed almost impossible.
The employees that I have worked with from RTC have always been friendly, professional and they get the job done. I have had nothing but positive experiences with RTC and highly recommend them to anyone in need of their services."
- Property Manager at The Outpost Fort Collins

Previous
Next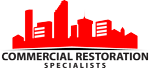 Northern co's Proven Roofers & Restoration Experts
Since 2007, RTC Restoration has provided commercial restoration services to businesses throughout Northern Colorado. Whether you've been hit by a fire or flood, we offer comprehensive cleanup solutions that will restore your property to its pre-disaster condition. We have fully licensed and insured specialists for fire mitigation, water mitigation, mold remediation, and asbestos abatement.
Our company is committed to the highest standards of responsible cleanup services. We're certified to handle biohazard restoration projects and we use environmentally friendly cleaning materials for our projects.
our services
Certified Restoration Services for Commercial Properties
When your business has been struck by sudden flooding or fire, there's more at stake than just property damage. You may also be facing costly downtime for your employees. In addition to around-the-clock fire and water damage emergency services, RTC Restoration offers pre-disaster planning to better prepare your business for the unexpected.
inspiration
Safe and Efficient Commercial Restoration in Northern Colorado
For more than 15 years, RTC Restoration has helped both large and small Northern Colorado businesses with pre-disaster planning and emergency cleanup services.
why choose us
Thorough Restoration Services with Outstanding Customer Support

Safe and Responsible Cleanup
The highly trained crew at RTC Restoration stays up to date on the latest technologies and best practices within our industry. We use environmentally friendly cleaning materials that fully eradicate the current problem without creating other risks for you, your employees, or your customers.

24/7/365 Emergency Support
Disaster can strike at any moment, which is why RTC Restoration offers 24/7/365 emergency support. We respond to your call fast in order to minimize further water damage or flooding.

Pre-Disaster Planning
At RTC Restoration, we work with businesses to develop a pre-disaster plan that will minimize downtime in the event of an emergency.